Visionary Aponte | Aural Futures: Screen/Society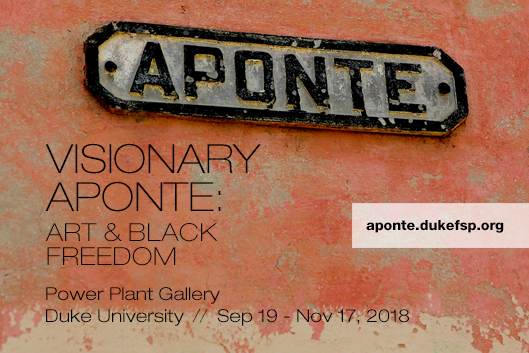 Cost:
Free and open to the public
Special presentation of a work-in-progress: God Said Give 'Em Drum Machines, directed by Kristian R. Hill (2016), 78 minutes. Followed by a 20-minute Q&A with artist, activist, and Afrofuturist Ingrid LaFleur.
-----
INFO & EVENTS: aponte.dukefsp.org
-----
This event is part of Visionary Aponte: Art & Black Freedom, a nine-week art exhibit and accompanying series of conversations, screenings, performances, residencies, and workshops at Duke University organized by the Power Plant Gallery and the Forum for Scholars and Publics. The exhibit is curated by Édouard Duval-Carrié and Ada Ferrer and is based on the digital humanities project Digital Aponte at http://aponte.hosting.nyu.edu.
The Visionary Aponte exhibit will be on view at the Power Plant Gallery on the American Tobacco Campus from September 19, 2018, to November 17, 2018.
MORE EVENT INFORMATION