Asian Entanglements in Arid Lands: Arizona, Arabia, and Desert Geopolitics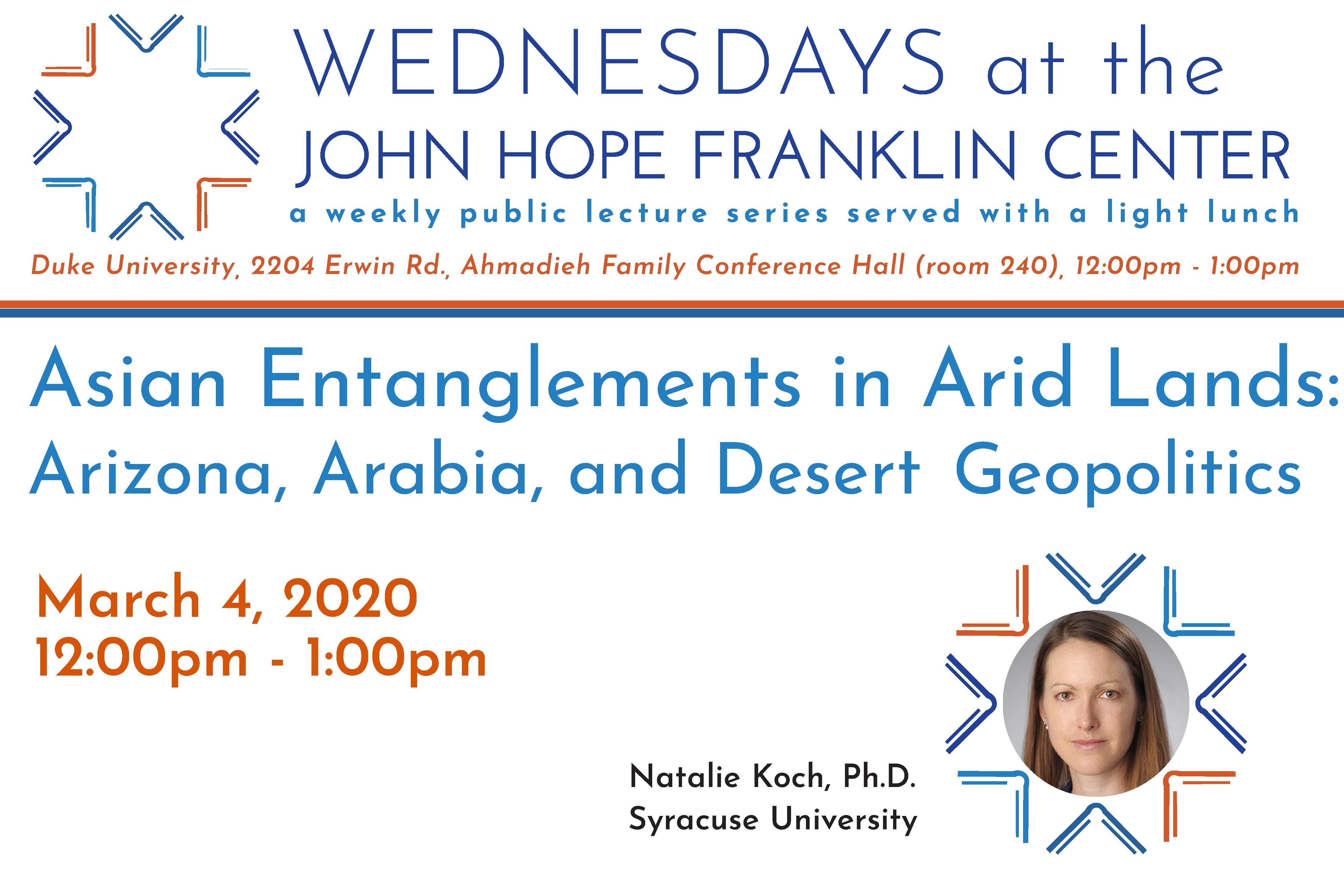 In 2014, the largest dairy company in the Middle East, Almarai, purchased a farm near Vicksburg, Arizona. The Saudi company is now growing alfalfa there and shipping it back to their headquarters at Al Kharj farms, where it has a herd of more than 160,000 milk cows just outside of Riyadh. Why is a Saudi company investing in farmland in Arizona? And why does Saudi Arabia have such a large dairy industry? Further, given that dairy and alfalfa farms both require an immense amount of water to maintain, why are these developments happening in the deserts of Arizona and Arabia? By exploring these arid entanglements through the lens of environmental history, STS, and geography, I offer an approach to "desert geopolitics" that shows how current ties linking Arizona, the Arabian Peninsula, and Asia more broadly are rooted in geographic imaginaries that spectacularize desert farming projects.
Natalie Koch is Associate Professor of Geography and O'Hanley Faculty Scholar at Syracuse University's Maxwell School of Citizenship and Public Affairs.
This presentation is sponsored by the John Hope Franklin Center and the Global Asia Initiative. A light lunch will be served. Parking is available in nearby Trent Rd. and Erwin Rd. parking decks. The series provides 1-hour parking vouchers to guests.
Type:
SUSTAINABILITY
,
ASIA FOCUS
,
MULTICULTURAL/IDENTITY
,
ETHICS
,
HUMAN RIGHTS
,
UNITED STATES FOCUS
,
DIVERSITY/INCLUSION
,
GLOBAL
,
HUMANITIES
,
NATURAL SCIENCES
,
SOCIAL SCIENCES
,
HEALTH/WELLNESS
,
LECTURE/TALK
,
RESEARCH
, and
FREE FOOD AND BEVERAGES