Rare Disease Endpoint Advancement Pilot Program Workshop: Novel Endpoints for Rare Disease Drug Development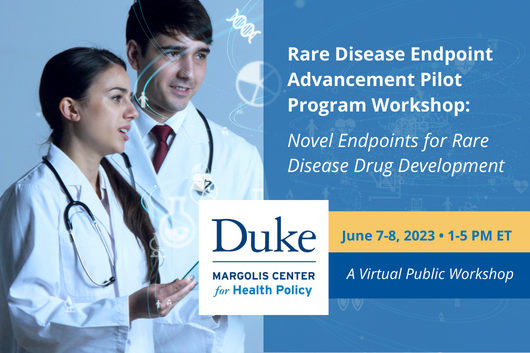 Although rare disease is defined as a condition affecting fewer than 200,000 individuals, collectively these conditions impact an estimated 30 million people in the United States. Significant unmet treatment needs remain for many of those living with one of the 7,000-10,000 known rare diseases. In order to facilitate rare disease drug development, and as part of a performance goal and requirement related to the FDA User Fee Reauthorization Act of 2022 and the Food and Drug Omnibus Reform Act of 2022, respectively, the U.S. Food and Drug Administration (FDA) has established a pilot program for supporting the development of efficacy endpoints for rare disease treatments. The new Rare Disease Endpoint Advancement (RDEA) Pilot Program offers additional engagement opportunities with the FDA to sponsors of rare disease development programs that meet specific criteria.

The Duke-Margolis Center for Health Policy, under a cooperative agreement with the FDA, is convening a two-day event that will illustrate challenges and opportunities in rare disease endpoint development, introduce stakeholders to the RDEA Pilot Program, and highlight how RDEA is structured to support sponsors who may encounter challenges with endpoint development. Participants will hear from a variety of speakers about rare disease endpoint examples to gain a better understanding of endpoint development challenges and opportunities. Workshop programming will also facilitate a shared understanding of the RDEA Pilot Program purpose and structure, including key features of the program such as sponsor disclosure requirements. Learnings from other FDA pilot programs that share programmatic features with the new RDEA Pilot Program will also be discussed. This event is intended to serve as a resource for sponsors and other relevant stakeholders interested in learning how to engage with the FDA through this new venue.
This event is open to all.
MORE EVENT INFORMATION