Real Estate Development & Finance: Sophomore Conversations with The Johnson Group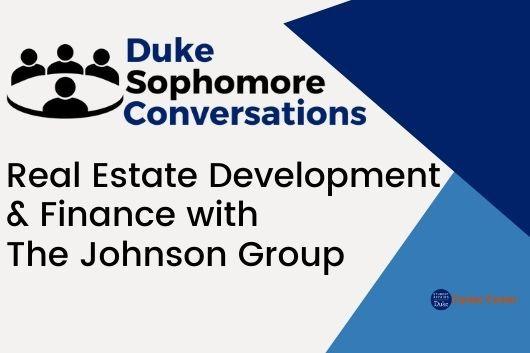 The Johnson Group will be holding a virtual chat session with sophomore students from 10:00 a.m. - 11:00 a.m. on March 4th to discuss their family of companies, the real estate development industry, and internship opportunities in finance, development, accounting, real estate, operations, and modeling. The chat session will be 45-60 minutes in length and held in an open group format. Duke alumni, Megan Horey, will be hosting the session and offering insights into her experience with the Johnson Group. Please note that this is not an interview, but rather an opportunity for you to speak candidly with the Johnson Group representatives and learn first-hand about the real estate development industry. Casual dress is appropriate.
For more information and registration, visit CareerConnections (click More Event Information below).
MORE EVENT INFORMATION