Francophone Africa Dance Workshop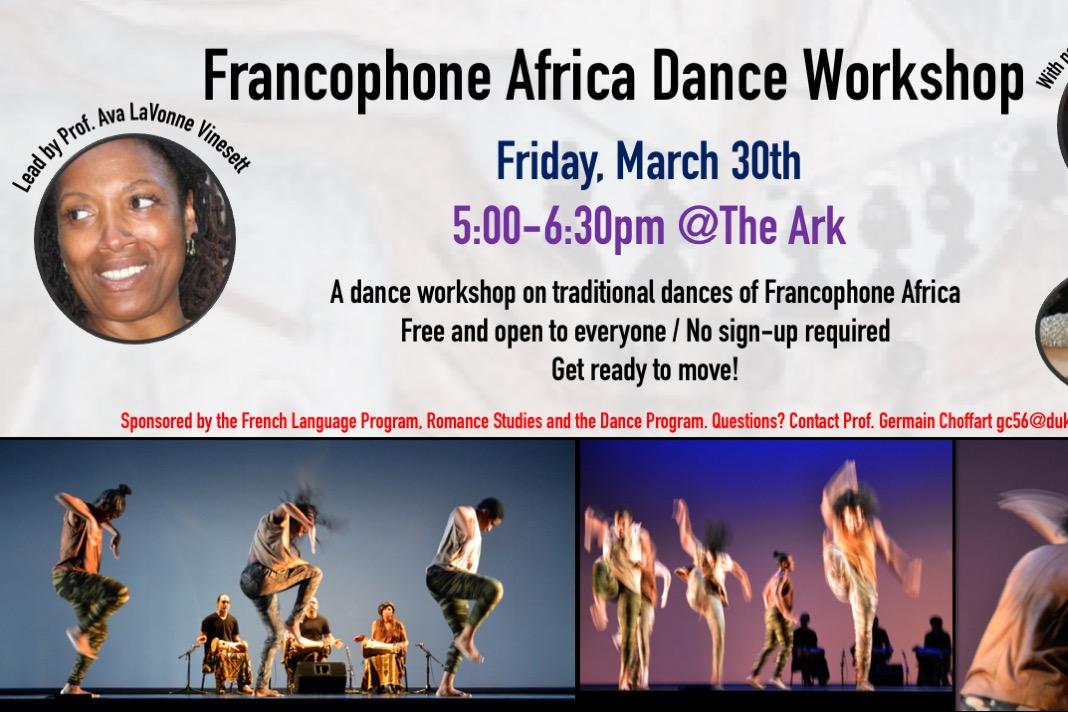 Lead by Prof. Ava LaVonne Vinesett of the Dance Program at Duke, this dance workshop will get students up and moving to traditional Francophone African dances with live music provided by percussionists Beverly Botsford and Richard Vinesett. This workshop is free and open to everyone, so bring your friends and get ready to move! The Ark is on East Campus, behind Marketplace. Event sponsored by the French Language Program in Romance Studies and the Dance Program at Duke. Questions? Email Prof. Germain Choffart, gc56@duke.edu

More info on the performers:
Ava LaVonne Vinesett is an associate professor, Director of Undergraduate Studies, Director of the Duke African Repertory Ensemble/Dance; Faculty Director/Baldwin Scholars, at Duke University. Ava is the co-founder of Indigo Yard Gals, and a prolific choreographer rooting her work in communicating existing legacies of African diaspora danced religious, spiritual and cultural beliefs. Beverly Botsford is a cross-cultural percussionist and educator, embracing drumming traditions of Africa, Cuba, Brazil and North Carolina. She celebrates more than 30 years of professional experience, sharing with more than 40,000 students in schools and performing as a jazz artist in major venues all over the world. Richard Vinesett is a musical accompanist and percussion instructor for the Duke University Dance Program's African dance classes and is the Musical Director for the Duke African Repertory Ensemble.
Type:
AFRICA FOCUS
,
CARIBBEAN FOCUS
,
EUROPE FOCUS
,
DIVERSITY/INCLUSION
,
GLOBAL
,
HUMANITIES
,
SOCIAL SCIENCES
,
CONCERT/MUSIC
,
DANCE PERFORMANCE
,
MASTERCLASS
,
WORKSHOP/SHORT COURSE
, and
RELIGIOUS/SPIRITUAL