Closing the Loop: NC Healthcare Transformation and Local Efforts for Addressing Non-Medical Needs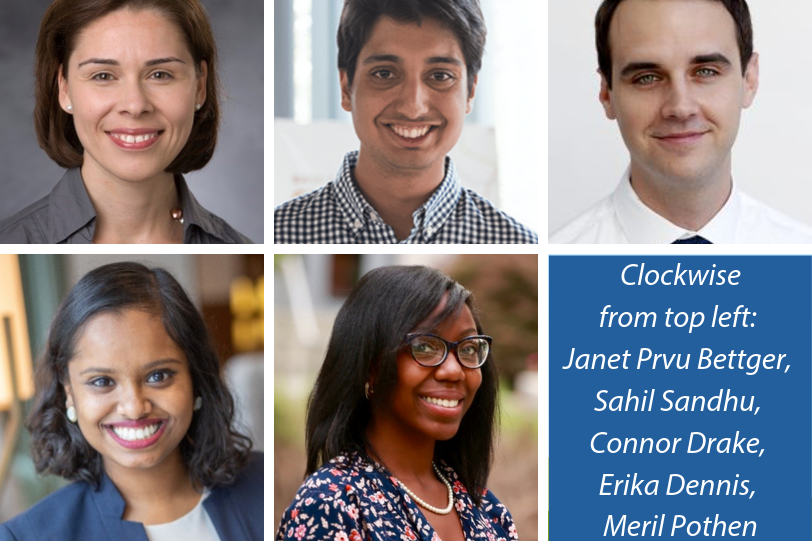 Addressing social determinants of health such as food insecurity, economic instability and lack of transportation is a critical step in reducing health disparities and improving overall health. This presentation will describe efforts at the state and local levels for addressing unmet social needs. The team will highlight NC Medicaid Transformation initiatives and describe the successes to date from the Bass Connections Help Desk project in partnership with Lincoln Community Health Center: A Student Initiative to Help Address the Social Determinants of Health. The presentation will be delivered by...
Janet Prvu Bettger, ScD, FAHA
Associate Professor
Director of Undergraduate Initiatives, Duke-Margolis Center for Health Policy
Sahil Sandhu
Program II Candidate, Trinity College of Arts and Sciences, Duke University
Connor Drake, MPA
PhD Candidate in Health Policy and Management, University of North Carolina at Chapel Hill
Research Program Leader, Duke Center for Personalized Health Care, Duke University School of Medicine
Meril Pothen
Master of Public Policy Candidate, Duke University Sanford School of Public Policy
Erika Dennis
Accelerated Bachelor of Science in Nursing Candidate, Duke University School of Nursing
Lunch provided.
MORE EVENT INFORMATION