Denaturing the Colonial Sensorium: A Poetry Reading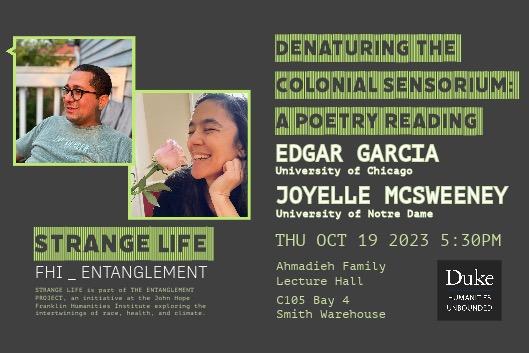 Please join ENTANGLEMENT: STRANGE LIFE for "Denaturing the Colonial Sensorium: A Poetry Reading" with Edgar Garcia, Associate Professor of English and Creative Writing at University of Chicago, and Joyelle McSweeney, Professor of English at University of Notre Dame.
Joyelle McSweeney and Edgar Garcia are poet-thinker-creators who inhabit the rotting skins of the Anthropocene, channeling its aporia and lacunae. "Slammed, pierced, and annihilated by historical fact" and, with the Mayan gods, devoted to articulating a version of humanity that is "indistinguishable from the inherent polyphony of creativity," their poetry and other writing attune us to the deep historicity of planetary breakdown. In a joint reading followed by questions and answers, Garcia and McSweeney undertake the strange and sticky work of denaturing (defacing? reshaping? unshaping?) the colonial sensorium.
Edgar Garcia is a poet and scholar of the hemispheric cultures of the Americas. His most recent book, Emergency: Reading the Popol Vuh in a Time of Crisis (U Chicago Press, 2022), is a collection of 9 essays that show what this foundational creation story of the indigenous Americas (the Popol Vuh) has to teach people about the relation between emergency and emergence. His scholarship and poetry are likewise inquiries into the relation between crisis and creativity or world creation-often experimenting with literary and disciplinary form to bring ideas and feelings to life. Alongside his books, his work has appeared in such venues as Publications of the Modern Language Association (PMLA), Modern Philology, The Chronicle of Higher Education, Portable Gray, and Fence.
Guggenheim Fellow Joyelle McSweeney is the author of ten books of poetry, drama and prose, a well-known critic, and a vital publisher of international literature in translation. McSweeney's recent book, Toxicon and Arachne (Nightboat Books, 2020), was called "frightening and brilliant" by Dan Chiasson in the New Yorker and earned her the Shelley Memorial Prize from the Poetry Society of America. Her 2014 essay collection, The Necropastoral: Poetry, Media, Occults, is widely regarded as a visionary work of eco-criticism. Her debut poetry volume, The Red Bird, inaugurated the Fence Modern Poets Series in 2001, while her verse play, Dead Youth, or the Leaks, inaugurated the Leslie Scalapino Prize for Innovative Women Performance Artists in 2014.