Family Weekend Concert: Duke Chorale, Symphony Orchestra, and Wind Symphony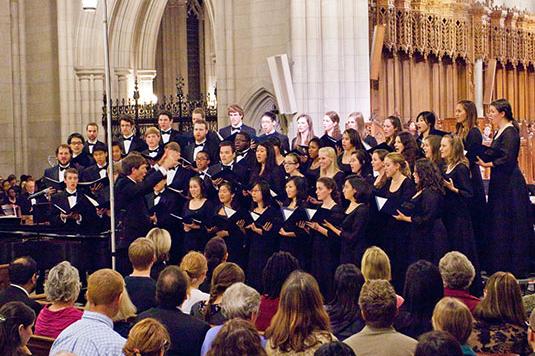 Cost:
$10 general admission, students free
Three of Duke's largest student music ensembles-- the Duke Chorale, directed by Rodney Wynkoop; Duke Symphony Orchestra, directed by Harry Davidson; and Duke Wind Symphony, directed by Verena Mösenbichler-Bryant, celebrate Family Weekend with a showcase concert featuring an eclectic selection of works. Program selections include: Eric Whitacre's "Sleep" and the Chaconne from Gustav Holst's First Suite in E-flat performed by the Wind Symphony, the Duke Chorale's hauntingly beautiful rendition of "Danny Boy " and movements from symphonies by Haydn and Schumann performed by the Duke Symphony Orchestra. Please note this is a public concert and not limited to Duke students and their families.
Contact:
Elizabeth Thompson
MORE EVENT INFORMATION