Research Data Blitz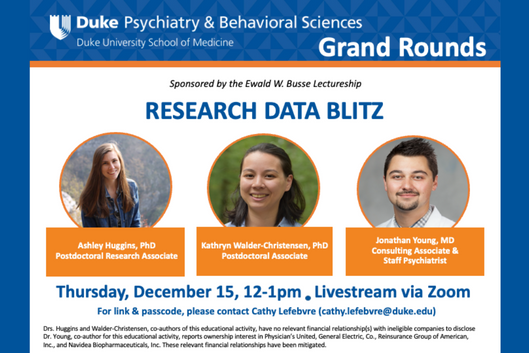 Cost:
No cost, but if you are interested in attending this event please contact Cathy Lefebvre for passcode
Dr. Ashley Huggins is a clinical neuropsychologist and affective neuroscientist in the Brain Imaging and Analysis Center. She completed her doctoral degree in clinical psychology at the University of Wisconsin-Milwaukee under the mentorship of Dr. Christine Larson. Following a clinical internship in neuropsychology at the Medical University of South Carolina, she joined Dr. Rajendra Morey's lab at Duke in 2021. Dr. Huggins's research program aims to characterize the neurobiological mechanisms implicated in posttraumatic stress disorder (PTSD). She employs diverse neuroimaging methods and experimental paradigms to build a more comprehensive model of how the brain learns, processes, and remembers fear, which she applies to better understand traumatic stress and other forms of adversity, including neighborhood disadvantage.
Kathryn Walder-Christensen is a postdoctoral associate with Dr. Kafui Dzirasa in the Collective for Psychiatric Neuroengineering. There she pairs multisite electrophysiology recordings with machine learning to discover brain-wide dynamics underlying mood and their disruption in neuropsychiatric illness. Prior to her postdoctoral training, she completed her graduate work with Dr. G. Vann Bennett where she elucidated the roles of giant ankyrins in the central nervous system.
Jonathan Young is an Assistant Consulting Professor Faculty Network Member of the Duke Institute for Brain Sciences. Dr. Young is also Staff Psychiatrist at Durham VA Medical Center where he practices interventional psychiatry in the VA Treatment Refractory Disorders Clinic and conducts clinical research in the Beckham Traumatic Stress and Health Laboratory. Dr. Young graduated from Stony Brook University School of Medicine in 2016, Duke Psychiatry Residency Training Program in 2020, the VA Advanced Fellowship in Mental Illness Research and Treatment in 2021, and the Duke Clinical Research Institute Physician Fellowship in Neurosciences Medicine in 2022. He has received numerous awards and is funded through two Career Development Awards from VA Clinical Sciences Research and Development focused on developing a multimodal rTMS intervention for smoking cessation in Veterans with PTSD.
Link to join: https://duke.zoom.us/j/92737905659
MORE EVENT INFORMATION