NCJSS presents Tomer Persico: "Religion and State in Israel: The End of the Status Quo"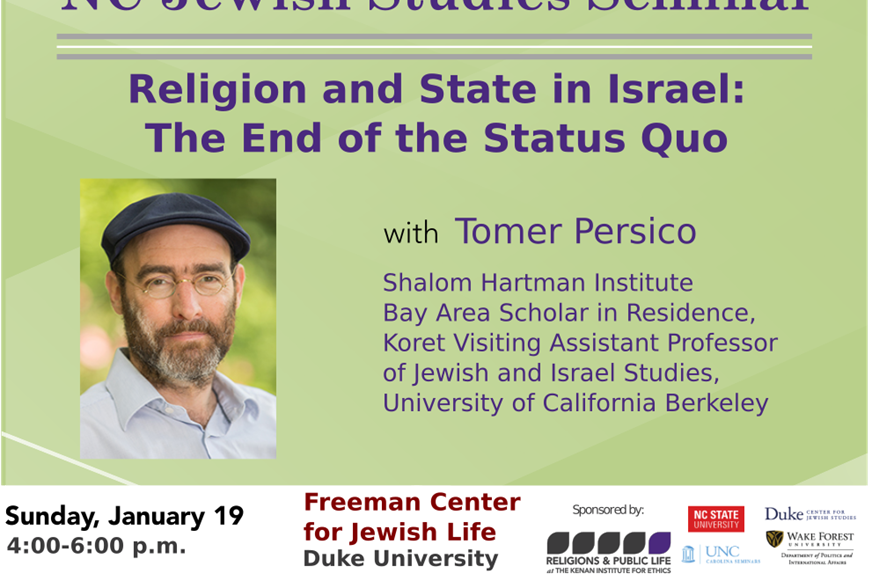 Religion and State relations were never simple in Israel, yet over the last three decades they've entered a dramatic overhaul. The famous "Status Quo", agreed between Ben-Gurion and the Ultra-Orthodox in 1947, is today a dead letter, highlighting the growing gap between public opinion in Israel and the formal word of the law. The Chief Rabbinate has lost public legitimacy, and diverse "Judaisms" challenge the traditional divisions in Israeli society. We shall examine the social conditions for these developments, as well as their political ramifications, such as were witnessed in the Israeli October 2019 elections. Paper can be accessed here: https://www.haaretz.com/israel-news/.premium-in-israel-a-new-consensus-on-what-being-jewish-really-means-1.8033870
Tomer Persico is the Shalom Hartman Institute Bay Area Scholar in Residence and the Koret Visiting Assistant Professor of Jewish and Israel Studies at UC Berkeley. He has taught for eight years at the Department for Comparative Religion in Tel-Aviv University, and his fields of study are contemporary spirituality, Jewish Renewal, forms of secularization, and trends of secularization and religiosity in Israel. His book, The Jewish Meditative Tradition was published by Tel Aviv University Press in 2016. He is an activist for freedom of religion in Israel, and has written hundreds of articles on these subjects for the popular media.