Discover Careers in Government with Hill Insider & Fannie Mitchell Expert in Residence Victoria Bright '10 [Registration required]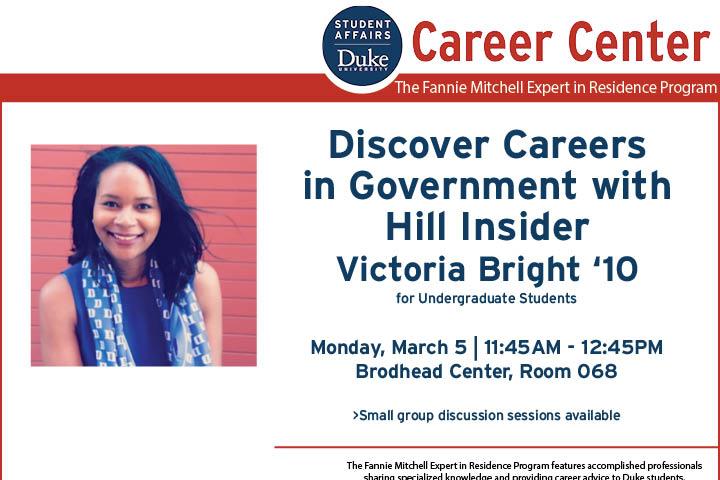 Hear from Hill insider, Victoria Bright '10, as she shares her knowledge and advice for students who want to work in government or advocacy! Victoria previously served as senior aide to Speaker Nancy Pelosi where she developed and implemented integrated communications, outreach, and legislative tactics designed to strengthen and maintain the Speaker's position in her Congressional district. She managed logistics for President Barack Obama's 2013 Inauguration and the 2015 visit by His Holiness Pope Francis to the U.S. Capitol. She also served as policy aide to the Speaker on health, veterans and judiciary issues.
Victoria currently develops strategies to engage 70,000 Duke women in the U.S. and abroad in the life of the university and create opportunities for learning, leadership and mentorship. She oversees the Women's Forum program, operating in 21 regions, providing formal programming around current events, social issues and personal and professional development, as well as informal events bringing together alumnae in their "neighborhood" - close to where they work or live - to connect across the generations. In this role, Victoria deepens relationships with trustees, senior administrators and high-profile donors. She manages leadership pipelines and program development trainings for over 200 volunteers and drives alumnae resources to initiatives serving women students on campus. *Lunch will be provided.
**Register by clicking More Event Information below.
MORE EVENT INFORMATION